Preschool Education in Bulverde Texas
Parents wonder how education begins for children. The first educational milestone for parents and their children is preschool. When children go to preschool, it widens their knowledge about music, literature, and other subjects. Teachers help children develop their minds to be more active socially and physically.
Children begin their education from the comfort of their homes and continue as they explore the world. When they pick up leaves fallen from trees, they make use of their sense of touch. They see and feel the veins of the leaves and learn what leaves are for. Soon after, when they go to school, teachers ask about what leaves do for plants.
Other preschool activities include playing games within the classroom. These games exercise the social skills of children and teach them how to make friends. Teachers observe the children make friends and if they encounter a conflict, they learn how to resolve it on their own.
While some engage in physical activities, other children practice arts and crafts. Kids learn how to share their materials and practice their creativity at school. Attending preschool in Bulverde, Texas gives kids a homey feeling as they achieve another milestone in their lives.
The Benefits of Preschool in Bulverde Texas
What do parents look for in a preschool?
Parents look for a preschool that molds their children to be the best versions of themselves. Is it hard to find the right preschool for your children?
Finding a Christian preschool for your children helps them put God in the center of their lives. With their God-centered education, they continue to be nurturing beings that care for people and their environment. Toddlers learn how to pray and be selfless. Parents look forward for their character development, which is why they prefer a Christian preschool.
One of the benefits of attending a Christian preschool is that kids learn how to care for others. Teachers help them share their toys and help others. Letting children attend The Pillars brings out the best in them. The different programs offered allow children to grow and develop to aid their parents.
The Pillars Christian Learning Center offers different kinds of programs that mold children to be more engaged in community activities. Preschool helps them communicate better with fellow kids, their families, and teachers in school. This lets them develop studying habits they will use as they grow up. Engaging in different social activities reduces their anxiety during school.
Infants
Toddlers
Preschool
Pre-K
Before and After School
Best Choice for Parents in Bulverde
Choosing the best preschool in Bulverde, Texas allows children to embark on their academic journey while strengthening their Christian foundation. Another chapter in their lives mean another chance in strengthening their morals and education. When parents are looking for the best Christian preschool in the area, think of The Pillars Christian Learning Center. Remember to consult them when you're in the area!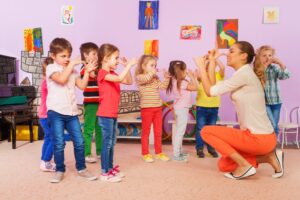 Uncategorized
Circle time is a popular activity in early childhood classrooms, and for a good reason! This structured activity allows children to practice social skills, follow
Read More »