Preschool Education in Sonoma Ranch Texas
Located just a few minutes downtown of San Antonio, Sonoma Ranch is one of the nicest places in Texas. It is considered a great place to live because of its friendly neighborhood and peaceful community. Also, it boasts some of the best shopping in the city and provides convenient access to high quality schools.
For families, access to good quality education is important and this is one of the best things about Sonoma Ranch. In Sonoma Ranch, you can provide your little one the best quality preschool education, and that's something you can get only from The Pillars Christian Learning Center.
A good quality preschool education offers a plethora of benefits to children. It sets them on the path for future success. It fosters a child's cognitive, physical, emotional and social development.
Benefits of Preschool in Sonoma Ranch Texas
Preschool education lays the foundation for future learning. Take a look at this list of benefits of preschool in Sonoma Ranch, TX.
Preschool prepares children for kindergarten. In a preschool setting, kids are given fun learning activities. These help them prepare for kindergarten and future academic endeavors. Here, they learn about the fundamentals of reading and writing, as well as other important skills.
It promotes independence. Preschool teaches kids to be independent because it provides children with plenty of opportunities to care for themselves and others. They are also given opportunities to accomplish tasks on their own.
Promotes social and emotional development. A preschool is a place where children learn to build relationships with other adults besides their parents. They learn how to feel safe with their teacher and caregiver.
These are just some of the many benefits your little one can get from The Pillars Christian Learning Center in Sonoma Ranch, TX. The programs we offer in this location are for the following.
Infants
Toddlers
Preschool
Pre-K
Before and After School
Best Choice for Parents in Sonoma Ranch
Our children deserve the best quality preschool education. Be sure to give it to them by choosing The Pillars Christian Learning Center in Sonoma Ranch, TX. Here at The Pillars Christian Learning Center, we focus on a child's holistic development. We make sure children equip themselves with everything they need not only for success in academics but in every aspect of their wellbeing.
Enroll now!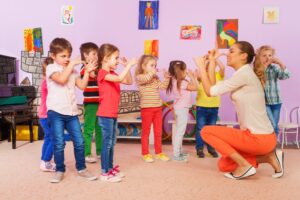 Uncategorized
Circle time is a popular activity in early childhood classrooms, and for a good reason! This structured activity allows children to practice social skills, follow
Read More »