Preschool Education in Westover Hills
How does one begin their education? What do youngsters learn when they first start school? Why should children attend preschool?
A lot of parents think about how their children do when they go to school. Preschool education widens a child's mind. Different teachers share their knowledge of subjects like music, reading, literature, and the arts. Children try out different subjects that interest them. Some lean to the logical side that includes math and science. Other children lean to the creative side and try out musical instruments or illustration.
Trying out different things at this age develops social skills that help them gain friends. Not only that, but it also improves their comprehension skills when they read different stories. Reading fairy tales develops their creative side and they make friends who share the same interests.
Teachers facilitate unique classroom activities that develop a child's physical health. They have time to run around and be active. Kids need physical activities as they continue growing. Moreover, when children get into conflict between other children, it teaches them to resolve it on their own.
Children learn different things when they begin school. When you live in Westover Hills, families can choose from different schools for their children. Another milestone for children means another parenting success.
Benefits of preschool in Westover Hills
Why do parents enroll their children in preschool? What do children get from attending preschool?
Attending a Christian preschool develops a child's faith and relationship with God. An education that incorporates God makes children learn how to be selfless and help others. It also helps their families build a closer relationship to God.
When families choose a Christian preschool for their children, they think of how their children will become God-centered people. It brings their relationship closer to God and transforms them into kinder children. The Pillars strives to bring out the best in children, helping them with their education in any way possible.
They create different programs to enthuse children in the community and enjoy their childhood while they learn. Preschool develops their sense of camaraderie as they help their classmates. It allows them to develop a good relationship with their teachers and their parents as they grow up.
Infants
Toddlers
Preschool
Pre-K
Before and After School
Why choose this preschool in Westover Hills?
Choosing the best preschool in Westover Hills, Texas means developing their intellect and their way to Christianity. Find the best Christian preschool for your children by consulting The Pillars Christian Learning Center.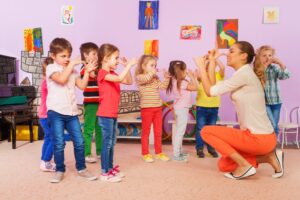 Uncategorized
Circle time is a popular activity in early childhood classrooms, and for a good reason! This structured activity allows children to practice social skills, follow
Read More »