The foundation needed for a lifetime of success and achievement begins with excellent education, intentional faith formation, and strong, loving relationships.
We know you love your child and want the best possible education for them. Give them the start they need so they can go on to do amazing things.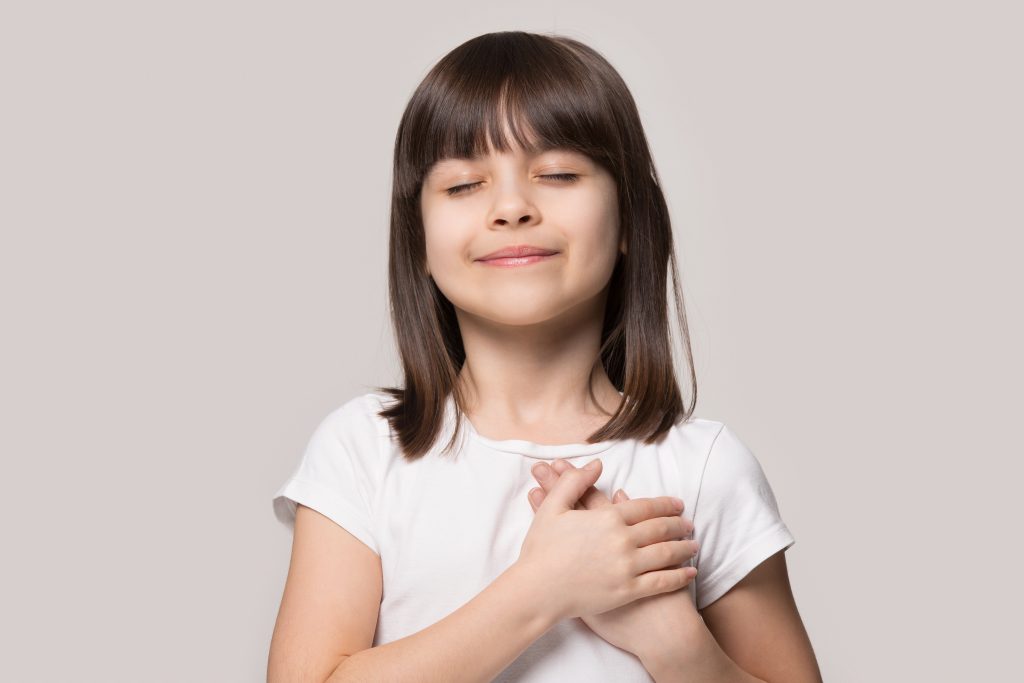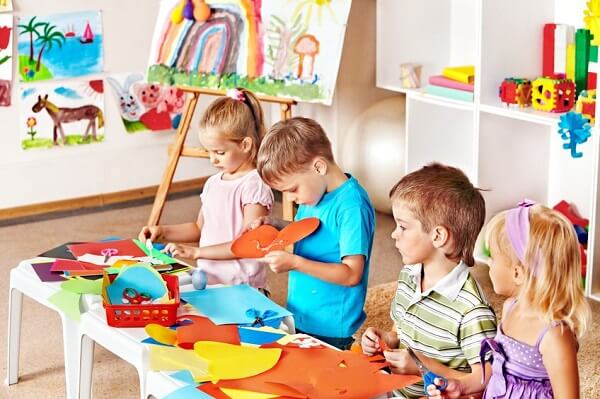 At The Pillars Christian Learning Center,
Our mission is to provide high-quality early childhood education while instilling and exemplifying Christian Values. Our vision is to partner with you as a parent to build your child a firm foundation for a lifetime of success and achievement — in their academics, their relationships, and their Faith.
We believe that every child deserves a faith-based, high-quality education that is close to home.
Knowing that your child is in the best possible care gives you the peace of mind that you need as a parent. We believe in offering this peace of mind to as many local families as possible. That's why you can find Pillars locations in more and more areas around Texas all the time. Growth is in our DNA. But it's about more than providing peace of mind. Why is serving more families in more communities so important to us? Because we believe that together with the families we serve, we are raising the next generation of leaders in our communities. Children who grow up on a foundation of faith and excellent education will lead others with Compassion, Integrity, and Excellence. We think that's the Pillars Difference.
Click through the steps 1 - 7 below to learn
more about The Pillars difference
Success Starts at The Pillars . . . but doesn't end there!
Click through the stages to SEE what your child's journey could look like
Infant
toddlers
2s&3s
pre-k
Elementary
high-school
college
Infant
toddlers
2s&3s
pre-k
Elementary
high-school
college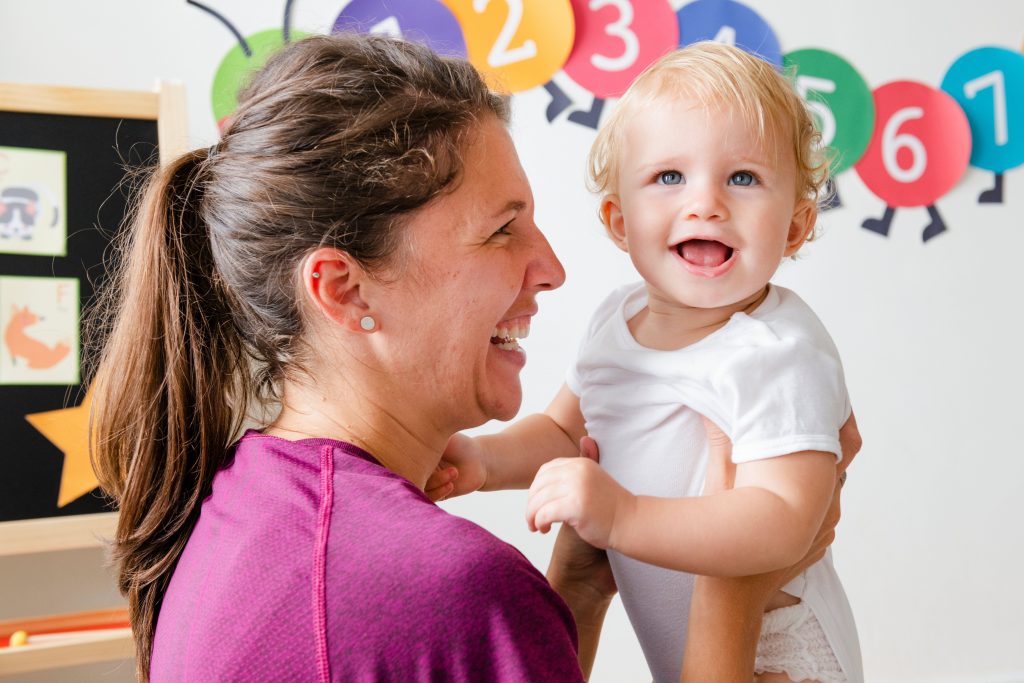 Our smallest friends, infants ages 6 weeks through 11 months, are provided a nurturing and peaceful setting as they start to understand the world around them. With parent or guardian guidance, we implement a daily feeding, changing and naptime schedule with simple rituals that mirror what you do at home.
Designed for 12- to 24-month-olds, our Toddlers Program is all about transition and child development. We get introduced to all kinds of cool, new things like letters, numbers, and colors. Our days are full and include fun, active and quiet play periods. Daily activities include learning songs, dancing to music, enjoying outside play, working on puzzles and reading picture books.
There's so much that our 2s and 3s have to discover. These age groups are immersed in our award-winning curriculum, interactive learning centers and circle time. There's dress-up, role playing, story time, musical instruments, puzzles, blocks galore and much, much more.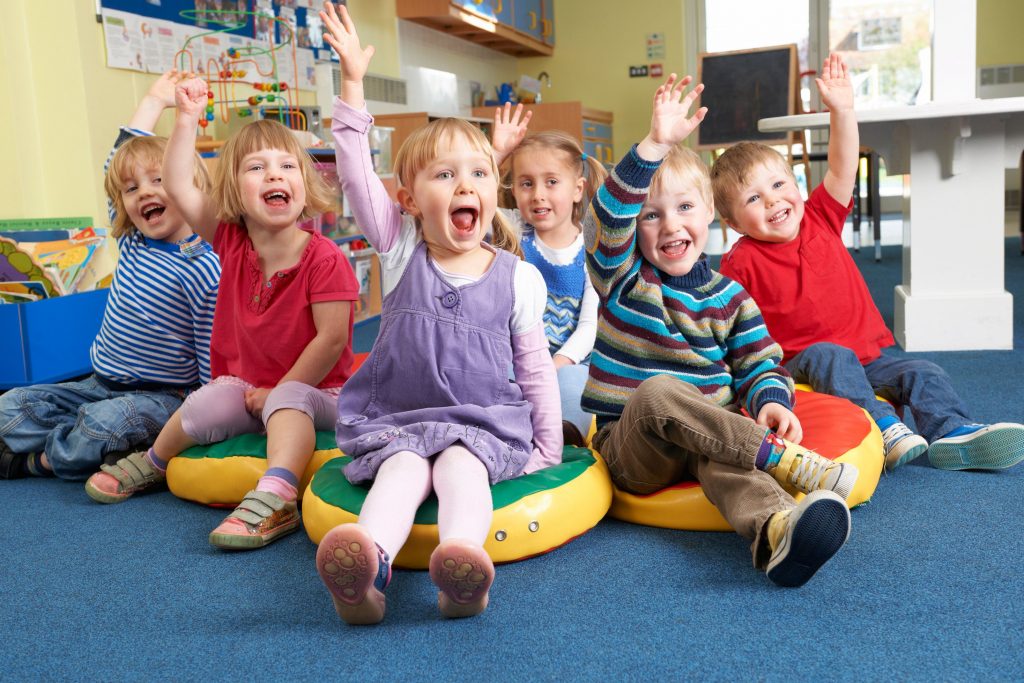 This is an important year, as our four-year-olds prepare to go to "big school!" The curriculum focuses on math and literacy and preschoolers begin to grasp basic math concepts and reading. They also engage in science projects, art activities, music and the study of other cultures.
By Pre-K Graduation, Pillars students scored 15% higher on Reading Readiness, Phonological Awareness, Math, Science and Social Emotional Behaviors than the regional average. To us, this is proof positive that a learning center with a holistic approach to every student as an individual can provide the best preparedness for the journey that comes next — Elementary School.
Studies show that children who have access to high quality early childhood education do better in elementary school, earn better grades in high school, garner higher test scores, are more likely to go to college. Students without that access can lag behind their peers in development by up to 18 months.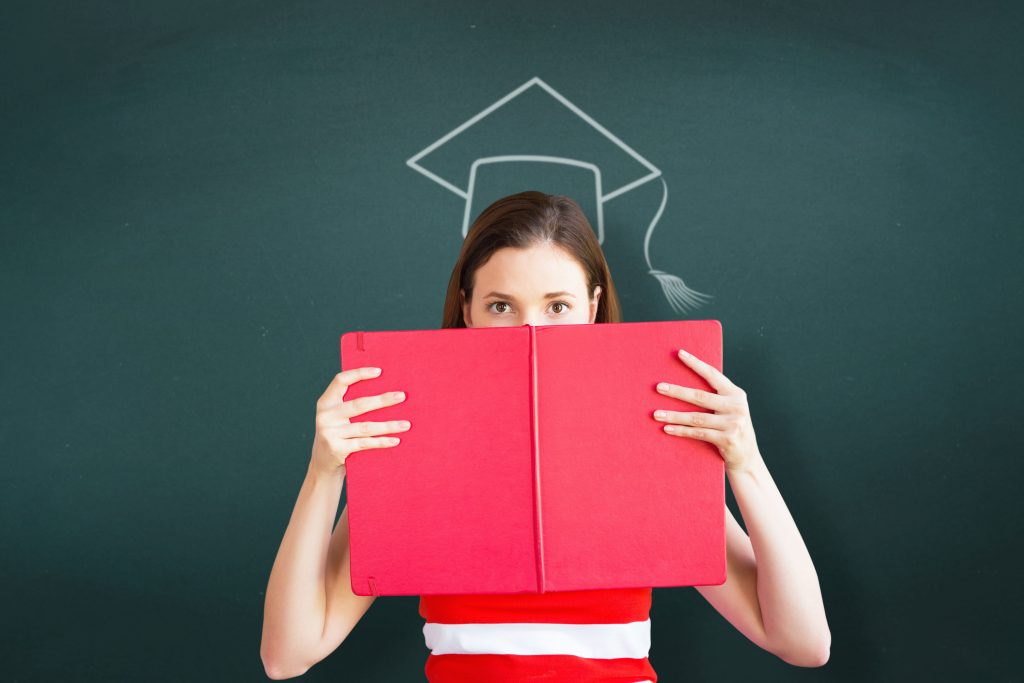 Those same studies indicate that children who attend programs like ours are more likely to obtain post graduate degrees, have higher incomes, more stable social networks, and are more well-rounded adults. We believe Pillars students go on to become Pillars themselves –Pillars of strength and leadership in their communities.
Partnering with your family for the growth and development of your children is a great honor and huge responsibility.
So we strive to do our part and be excellent. For you, your children, and your family. Here's some highlights..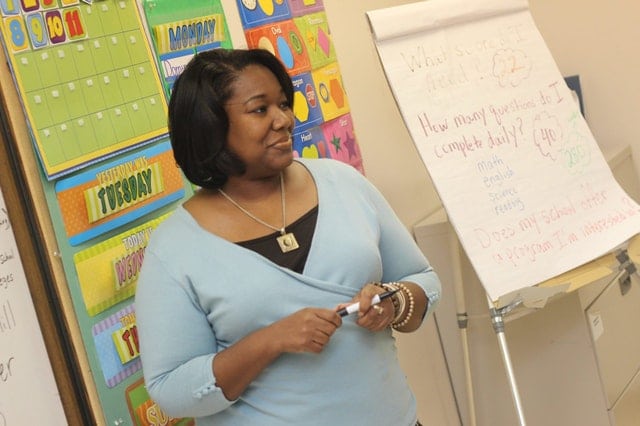 Experience Early Learning Curriculum
A research-based program that nurtures the whole child in all areas of development.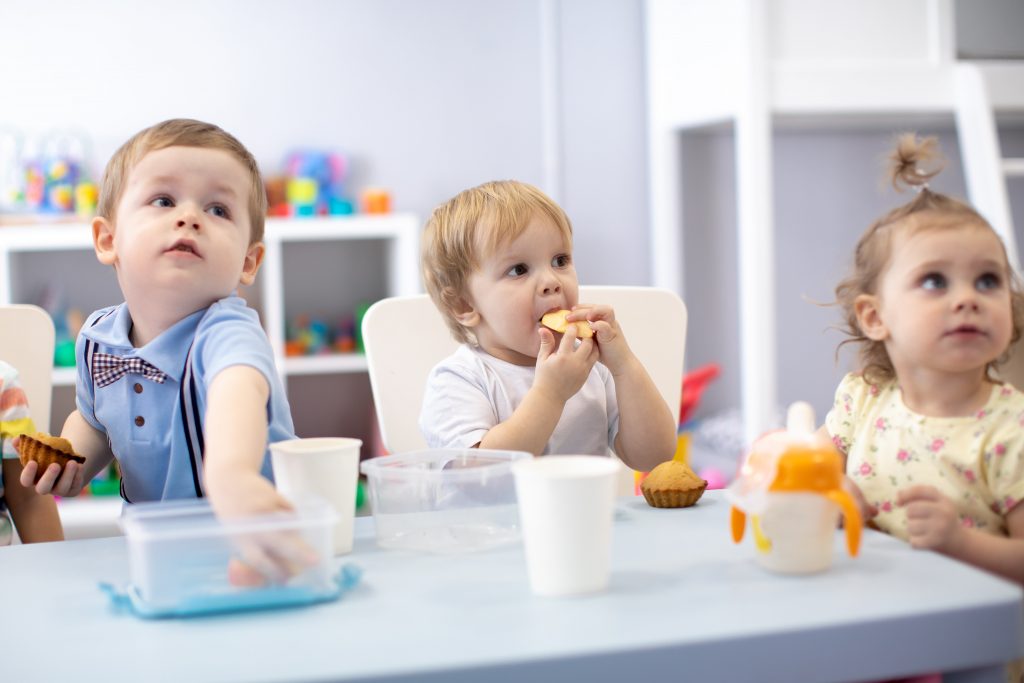 Each day our students receive two meals and one snack using high quality, chef prepared food. These meals/snacks are covered in your tuition.
CPR Certified Team Members
Every team member has been trained and is CPR certified to ensure our facilities are always in the safest of hands.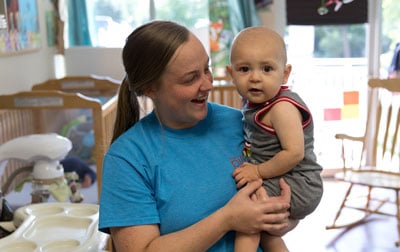 Advanced Teaching Certifications
We encourage and empower our teachers to continually take professional development courses. As such, the majority of our teachers hold CDA certifications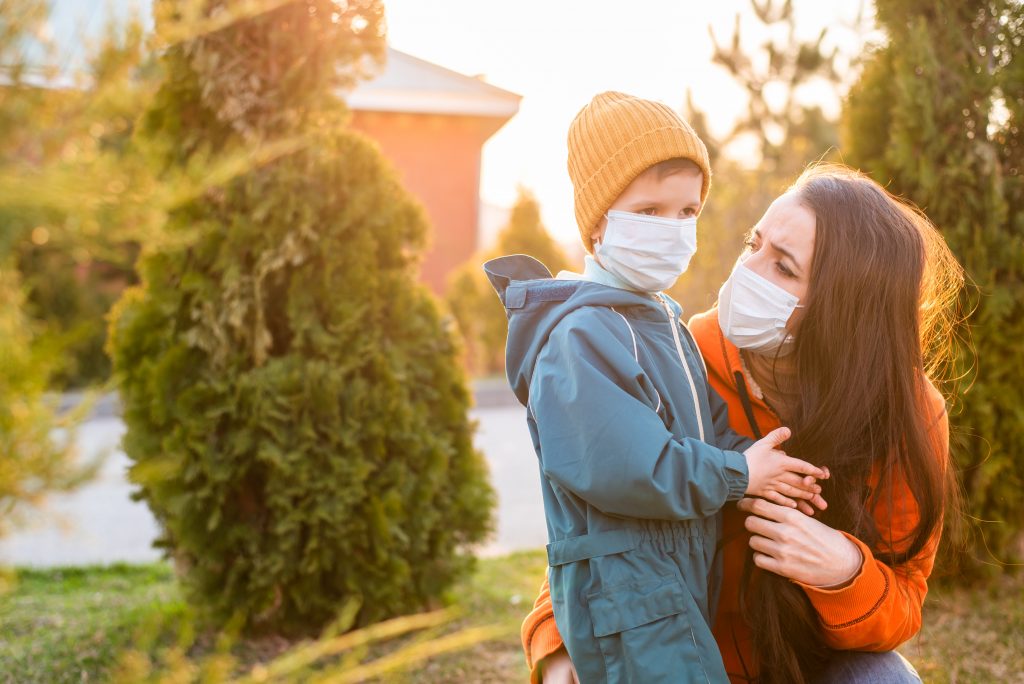 Accommodate Cloth Diapers + Breastfeeding Moms
It's our job to partner with how you're raising your child. If you're using cloth diapers and/or breastfeeding, you're welcome here!
We are driven by the four pillars and use these to make decisions each and every day. Compassion. Integrity. Development. Faith.
WHAT DO PARENTS SAY ABOUT US
My son is going on a little over 3 months attending Pillars-bandera location. My 2 yr old already has friends! All staff we have encountered know his name. Kudos to toddler bridge teachers!! We feel so blessed to have found Pillars Christian Learning Center. All staff have been nothing but delightful and accommodating towards any needs or concerns. 5STARS Pillars Christian Learning Center- bandera location
What an unexpected bonus it was for our Christian values to be reinforced during the course of the instructional week. Words cannot convey how heartwarming it was to hear our little ones recite the Bible verses using the alphabet at the end-of-year ceremony! The twins had an exceptional and unforgettable year. Notably, test results reflect improvement in their speech — an improvement that they will take with them as they begin their journey to kindergarten this year. Both of them loved Ms. Jannice and I applaud and thank her and all of The Pillars staff for their selfless contributions to my grandchildren's educational as well as social development. Undoubtedly, we made the right decision when we enrolled my grandchildren at The Pillars and we would not hesitate to recommend The Pillars to anyone. You exemplify and deliver a strong and enriched Christian-based education. You have been a blessing to our family. May you continue to touch the lives of the children who are entrusted to you.
We have 3 daughters currently enrolled at The Pillars Christian Learning Center, ages 20 months, 3 years and 8 years. We wanted to entrust the care of our children to a true early learning center with great teachers, a great curriculum and faith-based principles. Every teacher and staff member we have experienced is loving and a true professional, dedicated to the academic, social and spiritual development of our children. We are so pleased with our experience at The Pillars, and we would recommend them to anyone. The staff is wonderful!
This center has been instrumental to my children's development. It is so much more than a "daycare." They don't just watch my children, they teach them. My children enjoy showing off all they have learned or the work they have done. The lessons are structured in a clear and fun manner and because of the wonderful teachers, they look forward to going to school. I would definitely recommend this learning center.
We have been at The Pillars Colleyville since the first day and love it! The facility is always clean and the teachers and staff have been great! We feel so blessed to have our little guy go there where we know he is well taken care of and we can see how much his teachers truly care for him and his development. The core Christian values he is being exposed to is so comforting!
We have 2 toddlers in the daycare, and have been there since they opened. It's a wonderful place that has been completey updated. Right when ya walk in the front door, you can tell they care about the children. We highly recommend it there, and are happy we found a great place that the kids enjoy going to!
At the beginning of summer I made the decision to move my toddler to The Pillars CLC. I had been researching them since before they opened and kept putting off the transition. I am so thankful that I finally did it! My son has been in full time care for the last year and he finally leaves me when I come to pick him up to continue helping his teachers! He's always loved his teachers, but The Pillars seems to take that care to a new level. If you are considering enrolling your child, I would do it now!
Our kiddos have been at pillars since they opened in the spring. The transition was so smooth and the kids love it! They love their teachers and the fun projects they're always bringing home. The lessons often include Christian stories and values. Meals and snacks are provided, even a water/milk cup. We get updates and photos throughout the day on the Kangaroo time app. Thank you pillars for taking such good care of our babies 🙂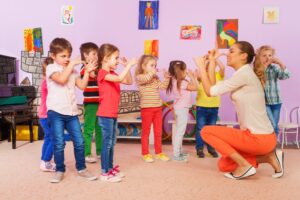 Uncategorized
Circle time is a popular activity in early childhood classrooms, and for a good reason! This structured activity allows children to practice social skills, follow
Read More »